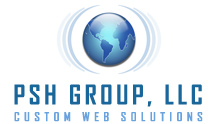 INTERESTED IN OUR SERVICES?
We look forward to talking with you about your business needs and visions. Please use the form on the Contact Us page to send us some information about your needs.
RECENT NEWS
06.12.2009
Palmetto Health has gone live with their new website design that was developed by PSH Group.
05.21.2009
PSH Group completed the new Edwin Leap website and blog upgrade.
04.01.2009
The new EB Design, LLC website launched today.
03.30.2009
PSH Group completed the Cabarrus Emergency Medicine Associates website upgrade.

SERVICES
As a full-service software and media firm, PSH Group offers a wide range of services. We utilize our deep understanding and knowledge of technology to deliver professional web and software solutions. Please see the sections below for more details about our range of services.
WEB DESIGN
At PSH Group, our team strives to create custom web sites based on the client's vision. The client is involved in every step of the creation process. We can create a multimedia presence on the web using CSS/XHTML or Macromedia Flash. Our team of designers works with the clients to develop a professional website that meets their needs to generate sales. Please visit the Contact Us page to begin the first step towards obtaining your professional online presence.
DEVELOPMENT - PHP/ASP/ASP.NET/XML
A solid back-end is needed to complete your online presence. From E-Commerce to Database Management, our experts provide a back-end solution that allows you to easily manage your online presence. We utilize current technology included PHP/MySql and ASP.NET/Sql Server.
IDENTITY - LOGO/BUSINESS CARDS/BUSINESS CD
Everything around us includes some type of graphic or logo branding. We understand the importance of marketing through visualization. PSH Group has the experts to design and implement these visualizations to create your Identity.