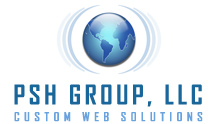 INTERESTED IN OUR SERVICES?
We look forward to talking with you about your business needs and visions. Please use the form on the Contact Us page to send us some information about your needs.
RECENT NEWS
06.12.2009
Palmetto Health has gone live with their new website design that was developed by PSH Group.
05.21.2009
PSH Group completed the new Edwin Leap website and blog upgrade.
04.01.2009
The new EB Design, LLC website launched today.
03.30.2009
PSH Group completed the Cabarrus Emergency Medicine Associates website upgrade.

ABOUT US
PSH Group, LLC is a full service media firm located in Columbia, SC, but doing work both locally and internationally. PSH Group specializes in developing, managing, and marketing leading edge websites, multimedia, and E-Commerce solutions for corporate, government, and small to medium business clients. We develop custom solutions to meet your business needs, and we do it at a time and cost that fits your budget. We pride ourselves on customer service. When you need us we will be there, and if you have questions about your site, we will work with you until you are satisfied.
HISTORY
PSH Group, LLC was never destined to be a typical web design and search engine marketing firm. It was founded in 2001 by a self-taught programmer whose biggest claim to fame was that he was smart enough to know what he did not know.
After beginning the business with just a handful of clients, Patrick was able to slowly grow the business to almost 100 different small to medium sized clients. In 2005 the company began to add programmers, ultimately finding a full time partner in Blake Birkenfeld.
Together, Pat and Blake have continued to expand the company's work both in scope and size and have recently completed several custom service sites wholly owned by PSH Group, LLC, including Bsitter.com. Current clients include Palmetto Health, South Carolina's largest non-profit hospital, PGA professional Daniel Chopra, and Flagship Capital Corporation.
PSH Group, LLC continues to expand and strives to be a leader in web development and hosting in the Southeast. Our goal is to provide our clients with effective web solutions that meet the demands of their business at a reasonable price.
OUR TEAM

Patrick Hunt, MBA - Founder and President
Mr. Hunt is a self-taught programmer with BS degrees in Chemistry and Biochemistry from NC State University and an MBA from Duke University. Pat has experience with multiple programming languages including PHP, MySQL, XHTML, Java, and CSS. As a designer, he is proficient in Photoshop, Illustrator, Go-Live, Dreamweaver, and Flash. He also brings significant experience in graphic design and project management.


Blake Birkenfeld - Senior VP and CTO
Mr. Birkenfeld has over 12 years of web and software development experience. Blake earned his BS degree in Computer Science from Texas A&M University, and his expertise includes web development, client/server application development, database design, computer algorithms, and graphic design. Blake is proficient with many programming technologies including PHP, ASP, ASP.NET, Perl, C, C++, C#, Java, XHTML, Javascript, and CSS. Blake was a founding partner in the Cogentas development group prior to joining PSH Group, LLC.