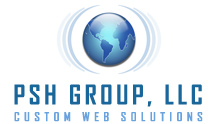 INTERESTED IN OUR SERVICES?
We look forward to talking with you about your business needs and visions. Please use the form on the Contact Us page to send us some information about your needs.
RECENT NEWS
06.12.2009
Palmetto Health has gone live with their new website design that was developed by PSH Group.
05.21.2009
PSH Group completed the new Edwin Leap website and blog upgrade.
04.01.2009
The new EB Design, LLC website launched today.
03.30.2009
PSH Group completed the Cabarrus Emergency Medicine Associates website upgrade.

PORTFOLIO
PSH Group has compiled a good-sized client base over the past several years. We have included some sample projects below to give you an idea about the wide range of our services. Please contact us if you have questions about any of these projects or would like to find out about any of our other projects.

Medical Toxicology Virtual Mentorship Program
http://www.toxfellowship.com
The Medical Toxicology Virtual Mentorship Program assists in promoting a mentorship relationship with an established toxicologist and individuals interested in pursuing further training in medical toxicology. We designed and developed an easy-to-use website for the program.

Palmetto Health
http://www.palmettohealth.org
Palmetto Health is South Carolina's largest, most comprehensive, locally owned, not-for-profit healthcare resource. PSH Group worked with Palmetto Health to develop a new design for the organization's website that is clean and easy to navigate.

Edwin Leap
http://www.edwinleap.com
Edwin Leap is a husband, father of four and practicing emergency physician. He is also a widely published, award winning columnist. PSH Group replaced Ed's old Joomla site with a custom-built site that is more visually appealing and easier to manage. We also provided consulting and upgrades for Ed's Wordpress blog.

EB Design, LLC
http://www.ebdesignllc.com
PSH Group developed a beautiful, functional website for residential design firm EB Design, LLC. The site features a full CMS system that allows EB Design to manage all the website content so they can keep their clients up-to-date with news and project information.

Cabarrus Emergency Medicine Associates
http://www.cemapc.com
Cabarrus Emergency Medicine Associates (CEMA) provides emergency medicine care at the Carolinas Medical Center (CMC)-NorthEast in Concord, North Carolina. PSH Group developed a new design and architecture for the CEMA website. The site features a full CMS that allows CEMA to manage the website content.

RSQ911 Solutions
http://www.rsq911solutions.com
RSQ911 Solutions is dedicated to improving service and operational excellence in the prehospital air medical transport environment. PSH Group developed the entire website and web-based survey and analysis system for RSQ911 Solutions.

Broyhill Asset Management
http://www.broyhillpa.com
PSH Group teamed up with m.e.designlab to develop a new website for Broyhill Asset Management, a private wealth management firm with offices in North Carolina and Pennsylvania.

Palmetto Health EM Residency
http://www.emergencyresident.com
Palmetto Health Richland was looking for a customized solution for its Emergency Medicine Residency Program. PSH Group designed and developed a simple but powerful online solution that allows the program to manage faculty, staff, nurses, residents, medical students, and rotators. The site features everything from evaluation processing to secure document management and communication tools.

Palmetto Health Simulation Center
http://www.palmettohealthsimulationcenter.com
Palmetto Health Simulation Center opened its doors in January, and they asked PSH Group to design and develop a web home for the Center. Phase 1 of the site has been completed, with more to come in the future.

Liquid Crystal Solutions, Inc.
http://www.lcs-lcd.com
Liquid Crystal Solutions asked us to create a simple, professional website that could help them expand their sales coverage across North America. PSH Group put together a visually appealing design and devised a CMS for the site that gives complete content control to the LCS staff.

The Emergency Ultrasound Course
http://www.emergencyultrasound.com
PSH Group did a complete overhaul of the old website. The new site features a new logo and design along with a custom Content Management System to allow easy management of site content, courses, products, customers, etc. The end product is user-friendly, simple to maintain and update, and easy on the eyes.

Cabarrus Radiologists
http://www.cabarrusradiologists.com
Cabarrus Radiologists requested a new website with an easy to use Content Management System, plus a members-only site with secure messaging, documents, schedules, etc. We worked with them to produce a system that fit their exact needs.

Flagship Capital
http://www.flagshipcapital.com
Flagship Capital asked us to transfer their existing static content into a dynamic, database-driven site with a back-end that would allow for easy management of web content, included team members, properties, transactions, news articles, etc.

Brighton Lakes
http://www.brightonlakesmb.com
Brighton Lakes wanted to update the design, content, and functionality of their existing website in order to increase sales leads. We worked closely with the client to develop a site that fulfilled their needs.

Emergency Ultrasound Fellowships
http://www.eusfellowships.com
PSH Group created a database-driven site that gives full control to program directors to allow them to update their program's information for the website.

Daniel Chopra
http://www.danielchopra.com
PSH Group developed a new web presence for PGA Professional Daniel Chopra that included custom Content Management features to allow Team Chopra to easily update the site with photos, news clips, press articles, tournament results, and more.

Portal-US
http://www.portal-us.com
The EHealthConx ultrasound portal is a web-based service that allows physicians to securely upload ultrasound images and case information for timely review and feedback to facilitate hospital credentialing and quality assurance needs. The system utilizes a kiosk-like user interface to guide physicians through the process of image upload, case submissions and image feedback, allowing physicians to gain valuable feedback as they learn to utilize ultrasound in the care of their patients.