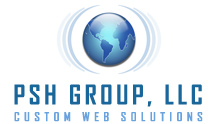 INTERESTED IN OUR SERVICES?
We look forward to talking with you about your business needs and visions. Please use the form on the Contact Us page to send us some information about your needs.
RECENT NEWS
06.12.2009
Palmetto Health has gone live with their new website design that was developed by PSH Group.
05.21.2009
PSH Group completed the new Edwin Leap website and blog upgrade.
04.01.2009
The new EB Design, LLC website launched today.
03.30.2009
PSH Group completed the Cabarrus Emergency Medicine Associates website upgrade.