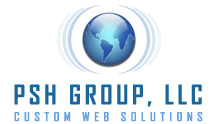 INTERESTED IN OUR SERVICES?
We look forward to talking with you about your business needs and visions. Please use the form on the Contact Us page to send us some information about your needs.
RECENT NEWS
06.12.2009
Palmetto Health has gone live with their new website design that was developed by PSH Group.
05.21.2009
PSH Group completed the new Edwin Leap website and blog upgrade.
04.01.2009
The new EB Design, LLC website launched today.
03.30.2009
PSH Group completed the Cabarrus Emergency Medicine Associates website upgrade.

LATEST PROJECTS
Medical Toxicology Virtual Mentorship Program
http://www.toxfellowship.com
The Medical Toxicology Virtual Mentorship Program assists in promoting a mentorship relationship with an established toxicologist and individuals interested in pursuing further training in medical toxicology. We designed and developed an easy-to-use website for the program.
Palmetto Health
http://www.palmettohealth.org
Palmetto Health is South Carolina's largest, most comprehensive, locally owned, not-for-profit healthcare resource. PSH Group worked with Palmetto Health to develop a new design for the organization's website that is clean and easy to navigate.
Edwin Leap
http://www.edwinleap.com
Edwin Leap is a husband, father of four and practicing emergency physician. He is also a widely published, award winning columnist. PSH Group replaced Ed's old Joomla site with a custom-built site that is more visually appealing and easier to manage. We also provided consulting and upgrades for Ed's Wordpress blog.
EB Design, LLC
http://www.ebdesignllc.com
PSH Group developed a beautiful, functional website for residential design firm EB Design, LLC. The site features a full CMS system that allows EB Design to manage all the website content so they can keep their clients up-to-date with news and project information.
Cabarrus Emergency Medicine Associates
http://www.cemapc.com
Cabarrus Emergency Medicine Associates (CEMA) provides emergency medicine care at the Carolinas Medical Center (CMC)-NorthEast in Concord, North Carolina. PSH Group developed a new design and architecture for the CEMA website. The site features a full CMS that allows CEMA to manage the website content.
RSQ911 Solutions
http://www.rsq911solutions.com
RSQ911 Solutions is dedicated to improving service and operational excellence in the prehospital air medical transport environment. PSH Group developed the entire website and web-based survey and analysis system for RSQ911 Solutions.
Broyhill Asset Management
http://www.broyhillpa.com
PSH Group teamed up with m.e.designlab to develop a new website for Broyhill Asset Management, a private wealth management firm with offices in North Carolina and Pennsylvania.